A leaking seal or gasket on a pre-combustion chamber may cause:
Incorrectly adjusted engine valves may cause:
Technician A says that excessive back pressure in the exhaust system will cause an increase in engine temperature and a decrease in engine power. Technician B says that excessive exhaust back pressure will cause denser, more compressed exhaust which may cause an engine to idle roughly. Who is correct?
Which of the following is NOT a cause of low engine power?
Which of the following could cause an engine to misfire?
Excessive valve lash will NOT cause which of the following?
Excessive piston to cylinder liner clearance can cause:
Which of the following could cause early valve opening?
To help diagnose and determine the cause of a deep engine knock, you should first:
Inadequate coolant treatment may cause:
One of the first things to check when an engine is reported to have excessive vibration is the:
A technician finds that a viscous type vibration damper has a dent in it, the proper procedure would be to:
Valve and seat wear would:
Excessive valve lash will NOT cause which of the following?
Which of the following would not be a cause for a cylinder head to warp?
If excessive carbon builds up in the combustion chamber, it may:
What would be the most likely cause of a piston contacting the cylinder head?
A technician finds that engine oil is coming from the overflow pipe of the vehicles radiator. The most likely cause of this is:
When an engine oil analysis indicates a high level of silica the _____________ should be checked.
Too high of an oil level in an engine may cause the connecting rods to chum the oil, aerating it and increasing engine temperature and oil consumption.
An oil cooler should be changed after a major engine failure as there is no reliable way of cleaning it.
Technician A says that an air cleaner restriction indicator will trip (show red in the window) whenever an engine is lugged. Technician B says that a badly restricted air cleaner element will cause an engine to smoke excessively. Who is correct?
A technician says that testing the engines coolant and correcting the amount of additive will prolong the life of the cooling system. The proper way to test the coolant is to:
As vehicle engine temperature rises, the radiator shutters should open:
An operator complains that when he turns on his Jake brake there is no reaction. The most likely first step for the diagnosis of the problem would be:
The purpose of removing air box covers on a Detroit Diesel engine is to:
After replacing an injector line, what will the technician have to do first before starting the engine?
The figure below shows what type of fan hub?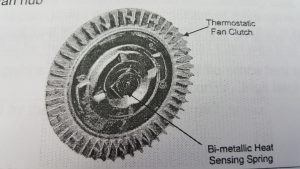 Show hint
Technician A says that glow plugs are used to help start the engine in cold weather. Technician B says that glow plugs should be disconnected in warm weather. Who is right?
All of the following can be used to bleed air out of the fuel system EXCEPT:
Premature engine bearing failures may be caused by:
The LEAST likely cause of oil pump failure is:
Technician A says some oil leaks are caused by gasket material being blown out of its sealing position. Technician B says that some oil leaks can be found by adding a dye to the engine oil that is visible under ultraviolet light. Who is right?
Which of the following can cause a noise that can sound like valve train noise or a deep engine knock?
Which of the following exhaust conditions are the most likely indicator of an engine misfire?
Technician A says that most manufacturers provide technical service information on compact discs (CD). Technician B says that if available, service manuals from the vehicle''s manufacturer have detailed information regarding procedures and diagnostic information. Who is right?
A customer has brought in a unit that has an engine oil leak. Upon inspection, the lower half of the engine is covered in oil. What is done next?
What can be determined by the colour of an engine oil?
An engine has a deep engine knock when it is first started up, and becomes less noticeable as it warms, until the noise almost fades away at operating temperatures. What could be the cause?
Blue smoke that is coming out of the exhaust can be caused by all of the following EXCEPT:
What might be the problem with a diesel engine that seems to have an increase in power and excessive black smoke?
The likely cause of a broken crankshaft near the front of an engine could be:
Glycol based anti freeze in the oil will:
Excessive black smoke under load could be caused by:
If a harmonic balancer outer ring has slipped on the rubber mounting, what must be done to correct it?
A vehicle that is experiencing poor fuel economy has entered the shop. Technician A says that if there is no fuel leaking from the fuel pump, then there is no problem with the pump. Technician B says that the fuel pump could be leaking internally and the engine oil level should be checked to help indicate a problem. Who is right?
What would cause oil to appear in the turbo crossover to the intake manifold?
To check for suspected coolant leakage at the liners (coolant in oil):
Excessive pin and guide hole wear on valve bridges would be an indication that the:
What is the most common reason for replacing the water pump?
Engine Start-up and Troubleshooting